iTromsø (Norwegian Review)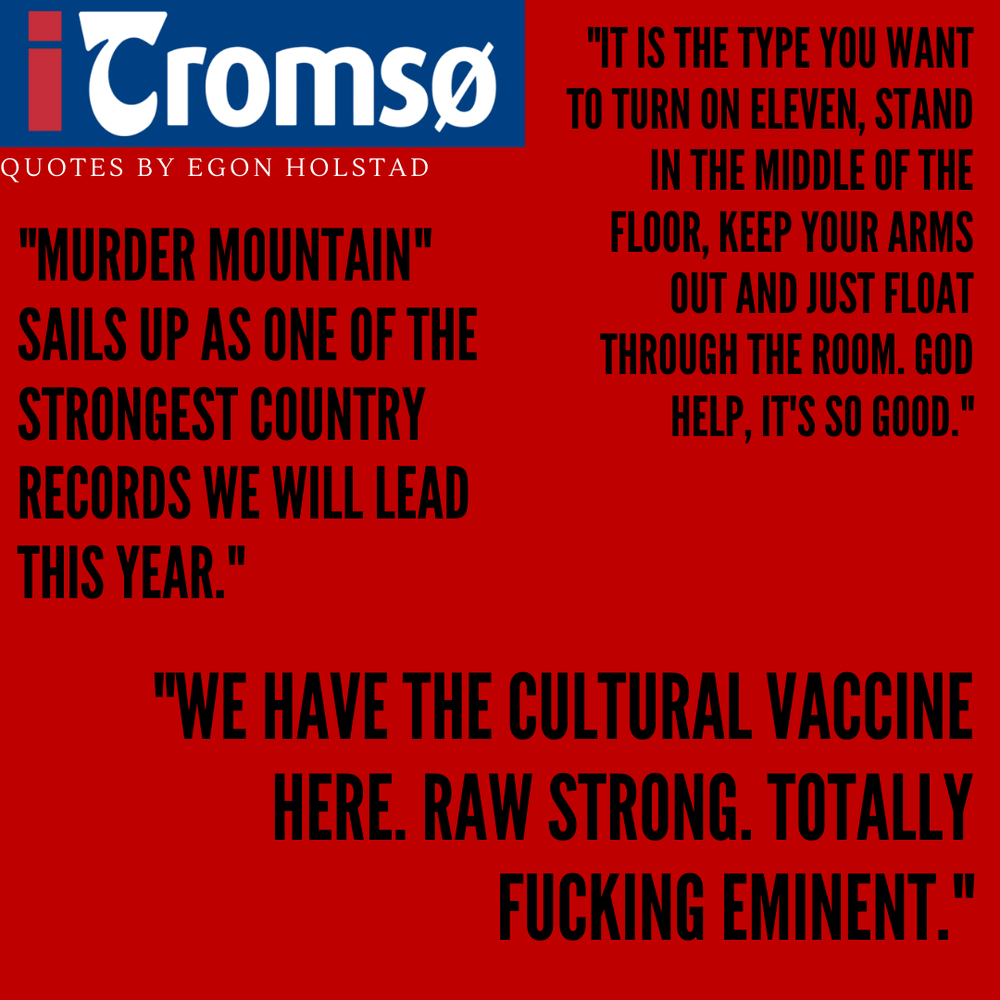 iTromsø
Totally Fucking Eminent by Egon Holstad
(Translated from Norwegian)
I think this is a debut, but am unsure, even after trawling the net. It does not matter anyway. What is important, however, is that "Murder Mountain" sails up as one of the strongest country records we will lead this year. He even refers to his music as "goth-country", and he is launched as a mix of Nick Cave and Steve Earle, but I do not know how much I agree, without it meaning anything.

What matters, however, is that this album is a solid album that really makes it cool down my back in a (in a positive way), and where I myself get strong associations to both The Gun Club (the shabby steel guitars!) as Roger Alan Wade (for those who remember him) and a young Springsteen.

The songs are written in pandemic rage, Trump rage and grief rage due to the fact that his father died during the album's creation, and the nerves hang thick on the outside of every single song and tremble. The crying steel guitars accompany the songs perfectly, and so effectively that it is impossible not to be touched emotionally.

The opening and title track is of the purely epic kind, a song I have heard so many times that I already feel its ehhh… durability. It is of the type you want to turn on eleven, stand in the middle of the floor, keep your arms out and just float through the room. God help, it's so good. Festivals are booking him now. Until the summer of 2023 or when the hell it's allowed again. In the meantime, we have the cultural vaccine here. Raw strong. Totally fucking eminent.
American Songwriter Magazine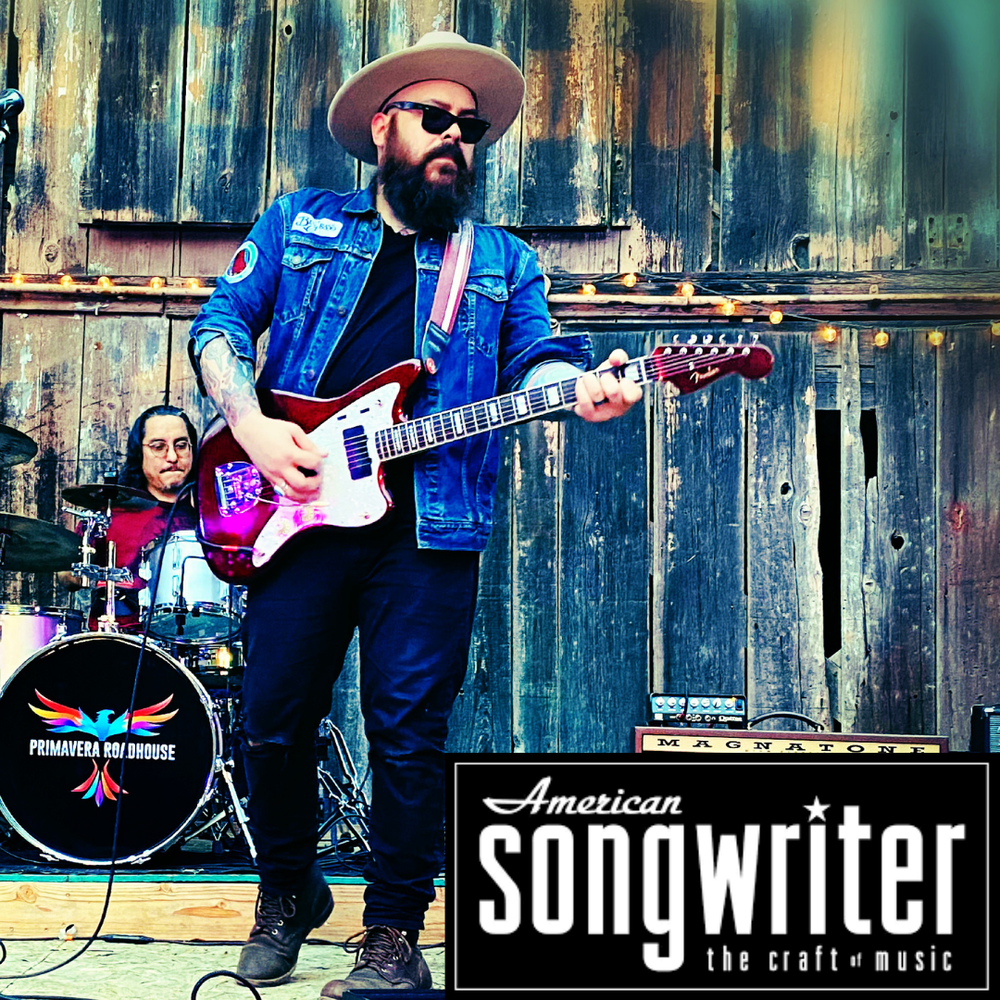 American Songwriter Magazine
Johnny Ironsights Found Inspiration In a Deadly and Marijuana-Infested County on "Murder Mountain" by Delia Rowland
Goldmine Magazine
Goldmine Magazine Review
Indie Spotlight on Sam Morrow, Stephen Jacques, Johnny Ironsights and More! by Lee Zimmerman
"No one really gives a damn," Johnny Ironsights declares on the title track to Murder Mountain, a stirring set of songs that conveys an unsettling sense of menace and mishap. The combination of reverb, vibrato and gutsy vocals make for a decidedly ominous sound, one conveyed through songs that suggest a kind of goth Americana and outlaw insurgence. Think Steve Earle in league with Nick Cave. Ironsight's subjects focus on a varied array of lost souls, loners and losers— stories that underscore the darkness and despair suggested throughout. In a sense, the material reflects the malaise that the world has witnessed for the past year or so, but at the same time, there's a dramatic narrative here that adds to the ultimate allure. That's especially evident on songs such as "Ghost of Orson Welles," "Three Nickels for a Pack of Smokies" and "Before the Quake (Summer of '95)," all nuanced narratives with a decided sense of adventure, intrigue and allure. Indeed, that's what makes Ironsight's insights so genuinely intriguing.
Americana Highways
Americana Highways
Review
"It's still early music-wise in 2021, but I'm calling it – this intense and dynamic record is going to be one of my favorite albums of the year and Johnny Ironsights is going to be one of my favorite personal musical discoveries at year's end." ~Americana Highways
Coast to Coast AM with George Noory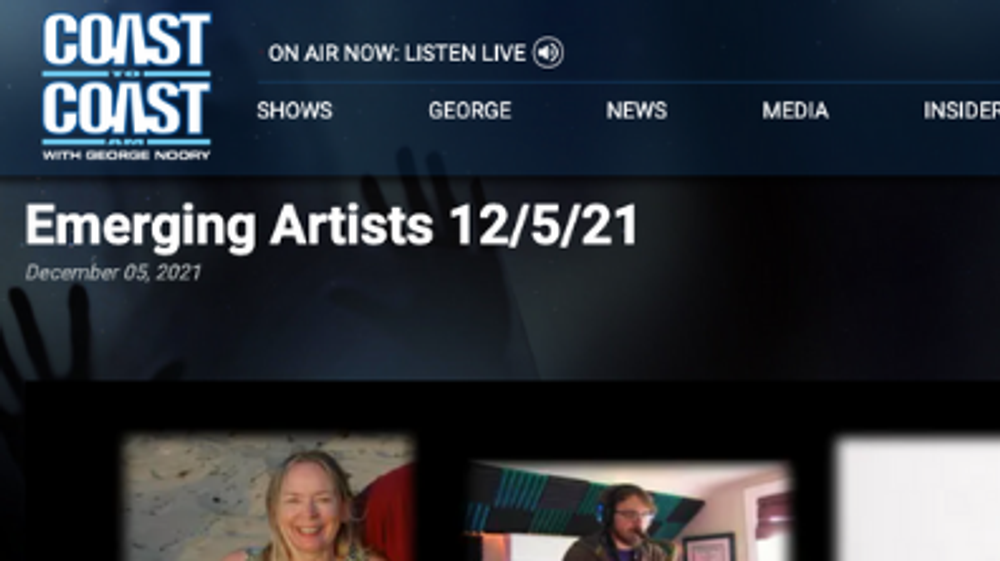 Coast to Coast AM with George Noory
Emerging Artist 12/5/21
Johnny's song "Ghost of Orson Welles" was played on Coast to Coast AM with George Noory. A fan of Coast to Coast AM since a child, Johnny is incredily grateful that he was chosen as an Emerging. Artist. 
Americana Highways
Americana Highways
Song Premiere: Johnny Ironsights "Fertile Reign of Juarez" by Melissa Clarke
Americana Highways brings you this premiere of Johnny Ironsights' song "Fertile Reign Of Juarez" from his new album Murder Mountain out March 5th.  All songs were written by Johnny Ironsights (ASCAP).  The album was produced and engineered by Johnny Ironsights and recorded in his home studio in Phoenix, Arizona.   "Fertile Reign Of Juarez" is Johnny Ironsights on vocals, guitar, bass, percussion, and organ; with Tommy Detamore on pedal steel.  The pedal steel was recorded at Cherry Ridge Studi in Floresville, Texas. Analog mastering was engineered by Gavin Lurssen of Lurssen Mastering in Burbank, California. Photos are courtesy of CK Langdon.
With the foreboding support of Western-style pedal steel, Johnny Ironsights tells classic Western tales of discrimination and defiance.
I wrote this song about my hometown of El Toro in Orange County, California that was renamed Lake Forest in 1991 by efforts of the wealthier white population. They named it after their housing track that was surrounded by a fake lake with newly planted trees. I wouldn't call that a lake or a forest. Some didn't want a name that was Spanish in origin, or associated with "The Bull," and some wanted to attract a different demographic, despite the area being referred to as El Toro since the 1800s. I remember the anti-immigrant and anti-Mexican sentiment as a kid in my working class and diverse neighborhood along the I-5. "They killed El Toro and gave boon to the forest. Good fortunes gather at the border." It will always be El Toro to me. — Johnny Ironsights 
Three Chords and the Truth UK